"Experts Club" held a seminar to teach journalists basic first aid skills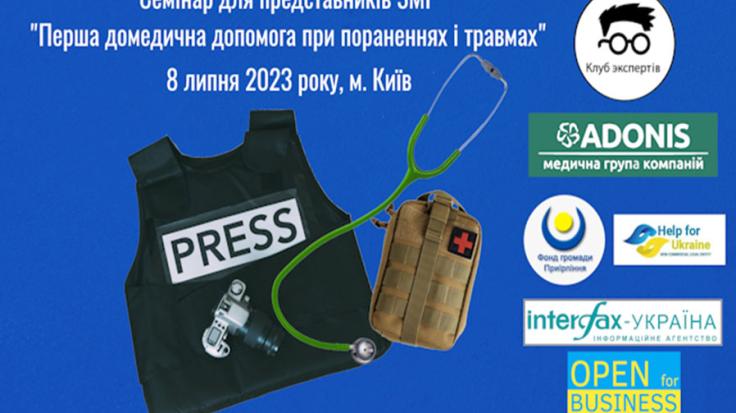 The analytical center "Club of Experts" in Kiev within the framework of the initiative on training of journalists in basic skills of rendering the first pre-medical care has held the first seminar-workshop. The event was organized by the Club of Experts, the Adonis network of medical centers, and "Help For Ukraine" Charitable Foundation, "Hromada Priirpenia Foundation" Charity Foundation; the information partner - "Interfax-Ukraine" and Open4Business portal.
The seminar was attended by the representatives of mass media from different regions of Ukraine, whose work is connected with risk and possibility of facing emergency situations. According to the participants, mastering basic first aid skills can be of vital importance at critical times, related to their professional activities in wartime conditions.
The seminar's keynote speaker, Adonis Medical Group anesthesiologist Mariana Bolyuk, is the co-author of 12 scientific publications and has a wealth of experience in the medical field. In her presentation, she covered important aspects of pre-medical care, including algorithms for basic life support, types of bleeding and how to stop it. Practical techniques, such as determining the pulse on main arteries and applying a turnstile, were also practiced at the seminar.
According to Maxim Urakin, organizer of the seminar and founder of the "Expert Club," in the current situation it is important to develop first aid skills among journalists because the role of their profession and the risk they face daily has increased significantly in war conditions.
"According to information published in the media, since last February, 61 media workers have already been killed and about 500 more journalists have been wounded. Therefore, we are deeply aware of the importance of training journalists in basic first aid skills. Our colleagues constantly face risks and have the responsibility of informing the public under difficult conditions. Therefore, we should strive to provide journalists not only with information, but also with the means to preserve and protect their lives and health," Urakin emphasized.
In the future, the organizers of the seminar plan to develop this training project, covering more media representatives and expanding their knowledge and skills in first aid. Journalists with a basic knowledge of premedical care will be able to act more effectively in difficult situations, contributing to quick and effective aid to victims. First-aid training for journalists in the future must become an integral part of their professional training and responsibility to society. According to the organizers, it is important to support and develop such initiatives in the future so that journalists are prepared for emergencies and contribute to general safety and well-being.